The Right Way to Flourish: Reconnecting with the Real World
John R. Ehrenfeld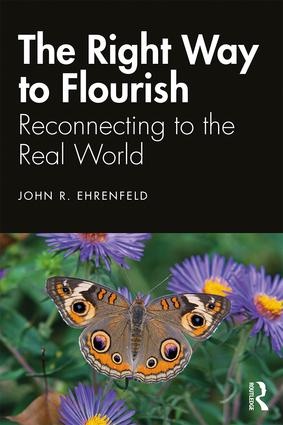 In this ground-breaking book, pre-eminent thought leader in the fields of sustainability and flourishing, John R. Ehrenfeld, critiques the concept of sustainability as it is understood today and which is coming more and more under attack as unclear and ineffective as a call for action. Building upon the recent work of cognitive scientist, Iain McGilchrist, who argues that the human brain's two hemispheres present distinct different worlds, this book articulates how society must replace the current foundational left-brain-based beliefs – a mechanistic world and a human driven by self interest – with new ones based on complexity and care. Flourishing should replace the lifeless metrics now being used to guide business and government, as well as individuals. Until we accept that our modern belief structure is, itself, the barrier, we will continue to be mired in an endless succession of unsolved problems.
Read the Introduction (Chapter 1). Click on this link to download a copy.
"This book is a radical call to reset mindsets in order to recover our empathic selves, and save our planet. At once philosophical, spiritual, and practical, the author shows why most of the current literature on business and sustainability is irrelevant, and offers a roadmap for humanity to achieve its potential."
Geoffrey Jones, Isidor Straus Professor of Business History, Harvard Business School
"Ehrenfeld deftly marshals brain science and psychology to produce a powerful defense of 'right-brained' thinking. Cultivating compassion, empathy, collaboration, and creativity offers a pathway to personal and collective flourishing — a far-reaching cultural good that transcends the narow goals of sustainability."
Jeremy Caradonna, Editor, The Routledge Handbook of the History of Sustainability
Flourishing: A Frank Conversation about Sustainability
John R. Ehrenfeld and Andrew J. Hoffman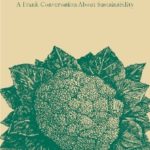 Flourishing: A Frank Conversation about Sustainability invites you into a conversation between a teacher, John R. Ehrenfeld, and his former student now professor, Andrew J. Hoffman, as they discuss how to create a sustainable world. Unlike virtually all other books about sustainability, this one goes beyond the typical stories that we tell ourselves about repairing the environmental damages of human progress.Through their dialogue and essays that open each section, the authors uncover two core facets of our culture that drive the unsustainable, unsatisfying, and unfair social and economic machines that dominate our lives. First, our collective model of the way the world works cannot cope with the inherent complexity of today's highly connected, high-speed reality. Second, our understanding of human behavior is rooted in this outdated model. Driven by the old guard, sustainability has become little more than a fashionable idea. As a result, both business and government are following the wrong path—at best applying temporary, less unsustainable solutions that will fail to leave future generations in better shape.To shift the pendulum, this book tells a new story, driven by being and caring, as opposed to having and needing, rooted in the beauty of complexity and arguing for the transformative cultural shift that we can make based on our collective wisdom and lived experiences. Then, the authors sketch out the road to a flourishing future, a change in our consumption and a new approach to understanding and acting.There is no middle ground; without a sea change at the most basic level, we will continue to head down a faulty path. Indeed, this book is a clarion call to action. Candid and insightful, it leaves readers with cautious hope.
Sustainability by Design: A Subversive Strategy for Transforming Our Consumer Culture
John R. Ehrenfeld
The paperback edition is now available.
272 p., 6 1/8 x 9 1/4 11 b/w illus.
ISBN: 978-0300158434 ISBN-10: 0300158432
Now also available for Kindle.
or buy from your local bookseller.
Download the selections below (pdf)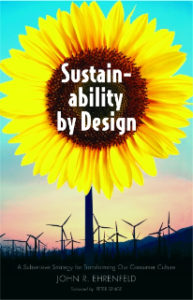 The developed world, increasingly aware of "inconvenient truths" about global warming and sustainability, is turning its attention to possible remedies-eco-efficiency, sustainable development, and corporate social responsibility, among others. But such measures are mere Band-Aids, and they may actually do more harm than good, says John Ehrenfeld, a pioneer in the field of industrial ecology. In this deeply considered book, Ehrenfeld challenges conventional understandings of "solving" environmental problems and offers a radically new set of strategies to attain sustainability.
The book is founded upon this new definition: sustainability is the possibility that humans and other life will flourish on Earth forever. There are obstacles to this hopeful vision, however, and overcoming them will require us to transform our behavior, both individually and collectively. Ehrenfeld identifies problematic cultural attributes-such as the unending consumption that characterizes modern life-and outlines practical steps toward developing sustainability as a mindset. By focusing on the "being" mode of human existence rather than on the unsustainable "having" mode we cling to now, he asserts, a sustainable world is within our reach.
Book Reviews and Comments
• Review of the Right Way to Flourish by Chris Kennedy in the Journal of Industrial Ecology, December, 2021.
Live Interviews and Lectures
Upcoming Events